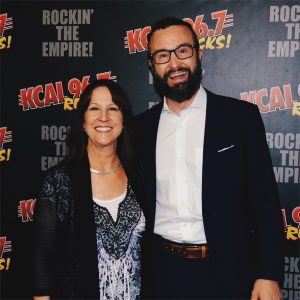 Kelli Cluque is a DJ on 96.7 KCAL Rocks! She is live weekdays from 9:00 am to 2:00 pm and attracts thousands of listeners every day. Her "What's for Lunch?" segment serves up some rockin' requests.
Kelli says that Sweet James is "the only one we trust" for a good reason. He's the only personal injury attorney you can count on to make the insurance company treat you fairly.
KELLI CLUQUE LAWYER SWEET JAMES BERGENER
If you or anyone you know has been in an accident, don't go it alone. Insurance companies are notorious for using every tool at their disposal to take advantage of injury victims.
Call (800) 900-0000 for a free consultation. Sweet James and his team will help you find the best path forward. No matter how big or small your accident, we'll take the time your case requires and make sure you get the answers you need.
KCAL Rocks! Schedule
Weekdays: 5:00am-9:00am – Jimbo, Tiffany, & Patrick
Weekdays: 9:00am-2:00pm – Kelli Cluque
Weekdays: 2:00pm-7:00pm – Daryl
Weekdays: 6:00pm-11:00pm – Stu – Man After Dark
Sundays: 3:00pm-7:00pm – Mike & The Mosh Pit