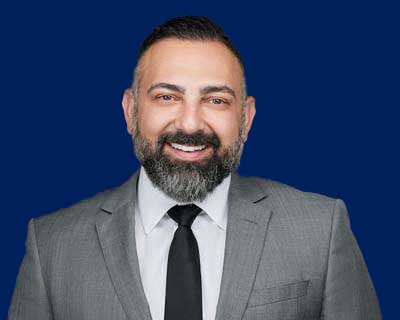 Managing PartnerBobby Taghavi
During his 17 year legal career, Bobby has gained extensive experience in both negotiations and trial advocacy, including handling over 80 trials to verdict in civil and criminal cases. Many of Bobby's cases have been covered by local, national and international press. He spent 12 years at the Orange County District Attorney's office (OCDA), handling numerous high-profile cases, including 6 years in the sexual assault unit where he prosecuted violent sex offenders and helped survivors of sexual assault navigate through the justice system. During his time as a prosecutor, Bobby also prosecuted a variety of serious and violent crimes, including gang prosecutions, DNA cold cases, and attempted murder to name a few. Bobby was assigned to the Golden State Killer Task Force, the Gang/Target unit as well as the Special Operations Unit of the Orange County District Attorney's Office. Bobby served as President of the Association of Orange County Deputy District Attorney's (AOCDDA) and was on the board of directors of the Orange County Attorney's Association (OCAA). He has conducted many trainings for local, state and federal law enforcement, victim advocate groups as well as teaching classes to law school, university, and college students. Bobby was a regular faculty member of the OCDA's training unit where he trained prosecutors on a wide variety of topics including trial advocacy.
After his time at the OCDA, Bobby has handled numerous personal injury cases, complex civil litigation as well as defense representations. He has tried jury trials as a prosecutor, a plaintiff's lawyer, and a defense attorney.
Bobby's passion and expertise lie in helping clients who have been survivors of sexual harassment, sexual assault, and sexual abuse. During his time as a sex crimes prosecutor and a civil litigant, Bobby has used his trial advocacy skills to obtain justice for many survivors of sexual assault and sexual abuse.
"Most of the things worth doing in the world had been declared impossible before they were done."
Louis Brandeis
US Supreme Court Justice
Career Highlights
Managing Attorney Sweet James LLP
Former Senior Deputy District Attorney, Orange County
President of Association of Orange County Deputy District Attorneys
Board of Directors, Orange County Attorney's Association
University of California, Irvine, B.A. Psychology, B.A. Criminology
University of San Diego, Juris Doctorate, Law
Admitted CA Bar