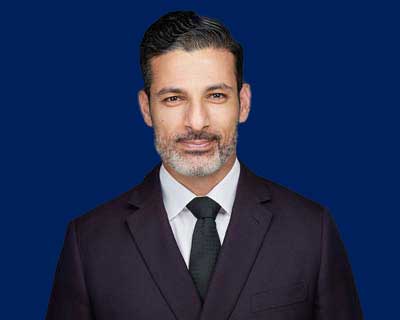 Senior Trial AttorneyAlaa "Al" Yasin
Being a trial lawyer has a special purpose. Alaa has dedicated his career to standing up to insurance companies and large corporations on behalf of injured victims.
Alaa's achievements as an attorney under the age of 40 – are remarkable. Alaa has taken over 10 jury trials to verdict as lead trial attorney or second chair. He has recovered over 100 million dollars in jury trial wins and settlements on behalf of injured victims. He was named to the Super Lawyers list from 2019-2022. He was named a Top Attorney under 40 in The National Trial Lawyers "Top 100 Lawyer Nationwide" and placed him in the "Top 40 Under 40." Alaa was named to the Lawyers of Distinction Top Personal Injury Attorneys 2019-2021. Some of Alaa's verdicts and settlements have earned a spot on the California Top "50" List from 2019-2021.
More than anything, Alaa is grateful to be fighting the good fight for the people. A graduate of the Gerry Spence Method – an elite trial lawyer program limited to 50 individuals, Alaa understands that insurance companies and corporations are waging a quiet war on ordinary people who have been injured. Their well-orchestrated public relations campaign demonizes victims who simply wish to be made whole.
Alaa recognizes the importance of being involved in the community. He serves his community with active memberships in the following: Consumer Attorneys Association of Los Angeles (CAALA), the Consumer Attorneys of California (CAOC), Arab American Lawyers of Southern California (AALSC), and the American Association for Justice (AAJ).
"The miracle of gratitude is that it shifts your perception to such an extent that it changes the world you see."
Career Highlights
Super Lawyers list from 2019-2022
Top Attorney under 40 in The National Trial Lawyers "Top 100 Lawyer Nationwide"
Top 40 Under 40
Lawyers of Distinction Top Personal Injury Attorneys 2019-2021
California Top "50" Settlement List from 2019-2021
Consumer Attorneys Association of Los Angeles (CAALA)
Consumer Attorneys of California (CAOC)
Arab American Lawyers of Southern California (AALSC)
American Association for Justice (AAJ)
Chapman University School of Law, Orange County, CA