Tow Truck Driver and Stranded Motorist Killed in Semi Truck Crash on 15 Freeway at Rasor Road [BAKER, CA]
Tow Truck Driver and Stranded Motorist Killed in Semi Truck Crash on 15 Freeway at Rasor Road [BAKER, CA]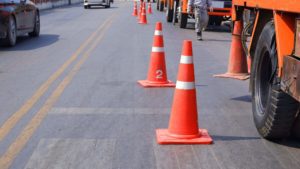 Fatal Semi Truck Crash on 15 Freeway south of Rasor Road

BAKER, CA (July 30, 2020) – Two men died in a semi truck crash Thursday morning near the town of Baker.

The crash happened around 5:17 a.m. on southbound 15 Freeway, just south of Rasor Road.

According to the CHP, a 23-year-old Apple Valley man was driving a 2013 Freightliner, hauling two bottom-dump trailers at 55 mph. For unknown reasons, he drifted into the shoulder.

A 2004 GMC tow truck and 2002 Chevrolet were both parked on the right shoulder. A 43-year-old male tow truck driver from Barstow was providing assistance to a 39-year-old man from Cleveland, Ohio, with a flat tire.

Due to the Freightliner's unsafe turning movement, it collided with the GMC. The GMC then struck the tow truck driver and the stranded motorist, causing them fatal injuries.

The GMC continued southbound and collided with the Chevrolet, where a 41-year-old woman and two girls from Granada Hills, were seated. Both the GMC and Chevrolet ended up in the open desert terrain. The semi came to rest in the center divider.

Paramedics took the woman and the juveniles to Barstow Community Hospital for precautionary reasons.

The semi truck driver was not injured.

CHP said alcohol and/or drugs are not suspected to be a contributing factor in the crash. They asked anyone with information to call them at (760) 255-5900.
---
We express our deepest condolences to the families and friends of the victims.
---
If you have lost a loved one due to recklessness of another party, we at Sweet James are here to help you. We will make sure to seek justice and maximum compensation that you rightfully deserve. Call our offices today at (800) 975-3435 for a free consultation with a legal professional in your area. To obtain the police report, click here.
 


/nas/content/live/sweetjames/wp-content/uploads