Ruth James Struck and Injured by DUI Driver on Market Street [San Diego, CA]
Ruth James Struck and Injured by DUI Driver on Market Street [San Diego, CA]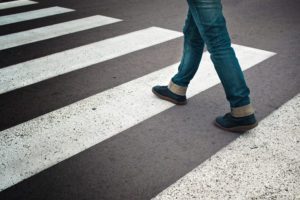 40-Year-Old Woman Arrested after Pedestrian Crash on Market Street

SAN DIEGO, CA (November 15, 2019) – Authorities identified 26-year-old Ruth James as the pedestrian struck by a DUI driver near Denby Street, Friday evening.

According to the San Diego Police Department, the incident happened at about 10:35 PM. James attempted to cross Market Street legally, but outside of a marked crosswalk. There, a 2015 Honda Accord sedan struck her.

Emergency responders rushed James to a hospital with a fractured pelvis and other internal injuries. Updates on her current condition remain undisclosed.

Meanwhile, authorities arrested the 40-year-old Honda driver on suspicion of felony DUI. She was being held in lieu of $100,000 bail.

The crash is still under investigation. Authorities encourage witnesses to call Traffic Division detectives at (858) 495-7800 as soon as possible. Anonymous tips can be submitted to Crime Stoppers at (888) 580-8477.

It is important to always stay alert when behind the wheel of a car, truck, or bus. Always keep an eye out for pedestrians, cyclists, and motorcyclists. As a pedestrian, avoid crossing outside of a marked crosswalk.
---
If you or a loved one has suffered injuries in a pedestrian crash, be sure to reach out to the pedestrian accident attorneys at Sweet James. With over 20 years in the field, we know what it takes to protect your legal rights. Our team is highly experienced in handling complex cases, helping injured individuals seek the compensation they deserve. Call our offices today at (800) 975-3435 for a free and confidential case evaluation. You can reach us 24 hours a day and 7 days a week through email, text, and online chat.



/nas/content/live/sweetjames/wp-content/uploads