Mireya Avila Killed, Driver Injured in Alleged DUI Crash on Colima Road [Whittier, CA]
Mireya Avila Killed, Driver Injured in Alleged DUI Crash on Colima Road [Whittier, CA]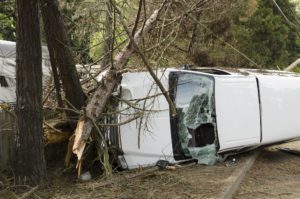 Mireya Rivera Avila Dies in Suspected DUI Crash in Whittier

WHITTIER, CA (November 27, 2019) — A 23-year-old woman died while a driver sustained injuries after their car slammed into a tree in Whittier Sunday morning.

The authorities said the fatal crash occurred at 7700 Colima Road, north of Mar Vista Street, at about 5:15 a.m.

Paramedics took 23-year-old Mireya Rivera Avila and the driver to hospitals following the crash. The coroner's records showed that Rivera Avila died at the University of California, Irvine Medical Center before 7:00 a.m.

The driver remained hospitalized Sunday as per the police. They did not disclose the driver's identity but suspect that intoxication was a factor in the crash. No further details were available.

The police asked anyone with information to call the Whittier Police Department at 562-567-9200. Anonymous tips are also welcome via the L.A. Regional Crime Stoppers at 800-222-8477.
---
Our deepest condolences and sympathies are with the loved ones of Mireya Rivera Avila.
---
It is important to have strong legal representation on your side when losing a loved one in a car accident. Reach out to the wrongful death lawyers at Sweet James today. With 20 years of experience in the field, we know what it takes to help you win your case. Our team understands that nothing can alleviate the emotional pain of the death of a loved one, but we can help you seek justice and compensation. Call us at (800) 975-3435 for a free and confidential case evaluation. You can reach us 24 hours a day and 7 days a week through email, text, and online chat.



/nas/content/live/sweetjames/wp-content/uploads