Man Killed in Bicycle Accident on Grand Avenue [Surprise, AZ]
Man Killed in Bicycle Accident on Grand Avenue [Surprise, AZ]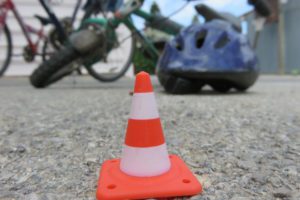 34-Year-Old Bicyclist Dies after Crash with Valley Metro Bus on Grand Avenue

SURPRISE, AZ (November 15, 2019) – A 34-year-old Tucson man died in a bicycle accident on Grand Avenue, Friday morning.

According to the Arizona Department of Public Safety, the incident happened at about 6:30 AM. A bicyclist attempted to cross the intersection and failed to yield to a Valley Metro bus, which had the right-of-way. Then, the bus struck the bicyclist near Greenway Road.

Emergency responders pronounced the bicyclist dead at the scene. Authorities withheld the identity of the victim, pending notification of next of kin. Meanwhile, the bus driver remained and cooperated with investigators.

DPS continues to investigate the cause of the fatal collision. Authorities will release additional information once it becomes available.
---
We at Sweet James wish the victim's family peace and strength during this difficult time.
---
It is important to have strong legal representation on your side when losing a loved one in a bicycle accident. Reach out to the wrongful death lawyers at Sweet James today. With 20 years of experience in the field, we know what it takes to help you win your case. While no amount of money can ever replace the person you've lost, we can help you lessen financial and emotional hardships. Call us at (800) 975-3435 for a free and confidential case evaluation. You can reach us 24 hours a day and 7 days a week through email, text, and online chat.



/nas/content/live/sweetjames/wp-content/uploads