Man Injured in Pedestrian Accident on Clairemont Mesa Boulevard at Genesee Avenue [San Diego, CA]
Man Injured in Pedestrian Accident on Clairemont Mesa Boulevard at Genesee Avenue [San Diego, CA]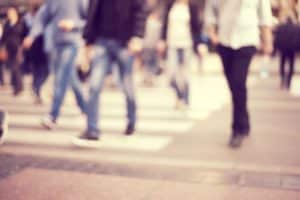 San Diego Pedestrian Accident on Clairemont Mesa Boulevard

SAN DIEGO, CA (November 27, 2019) — A man suffered major injuries in a pedestrian accident on Clairemont Mesa Boulevard at Genesee Avenue Saturday night.

The San Diego police said a pickup truck hit the pedestrian at 4500 Clairemont Mesa Boulevard past 6:00 p.m.

Reports indicated that the man walked into the path of the pickup truck. The man reportedly stepped off the curb and into traffic where a Ford F-150 struck him.

Paramedics took the man to a hospital with life-threatening head injuries.

The investigators do not believe that DUI nor drugs were factors in the crash. However, the investigation is ongoing.

Whether you are a driver or a pedestrian, it is important to abide by all traffic laws and observe safety precautions. If you're behind the wheel, do your part to avoid distractions and look out for pedestrians at all times. If you're crossing the street, do so at designated crosswalks or intersections. When walking alongside a road, remain on the sidewalk wherever possible. If there is no sidewalk, walk on the shoulder and face oncoming traffic. By obeying traffic laws and being cautious of the conditions of the road, you can help prevent an unforeseen accident and keep yourself and others safe.
---
When involved in a pedestrian accident, reach out to the experienced lawyers at Sweet James. With extensive experience in the legal field, he knows what it takes to win your case. Our attorneys and professional legal team have dealt with a variety of cases including personal injury and wrongful death. Call us at (800) 975-3435 to arrange your free consultation with an experienced legal professional in your area. For your convenience, Sweet James is also available through email, text message, and online chat 24 hours a day and 7 days a week.



/nas/content/live/sweetjames/wp-content/uploads