Bicyclist Killed in DUI Accident on Adams Boulevard [Los Angeles, CA]
Bicyclist Killed in DUI Accident on Adams Boulevard [Los Angeles, CA]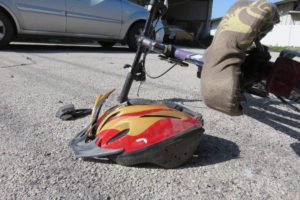 Bicyclist Fatally Injured in Los Angeles Alleged DUI Crash on Adams Boulevard

LOS ANGELES, CA (November 25, 2019) – A bicyclist died in a suspected DUI accident on Adams Boulevard on South Los Angeles on Saturday, November 23.

According to Los Angeles Police Department Officer Jon Pinto, the bicyclist moved westbound on Adams Boulevard near Cloverdale Avenue. Then a vehicle struck him at around 3 a.m.

The driver stayed at the scene and officers detained him on suspicion of driving while intoxicated, said Pinto.

Authorities have not yet identified the deceased victim.

A video from the scene showed a damaged bicycle laying on the ground near a dark-colored sedan. The impact smashed the vehicle's front windshield and the hood appeared badly caved in.

Officers said the area was well lit. They do not consider it particularly dangerous for cyclists.

The officer warned residents not to drive while intoxicated.

No additional information was available.
---
We offer our warm and heartfelt condolences to the loved ones of the deceased victim.
---
If a family member died in a DUI accident, reach out to Sweet James as soon as possible. We understand the death of a loved one is a difficult moment and can take a toll on your well-being. Our team will commit our resources and years of experience to bring justice for your loss. We will work with you during every step of the legal process. Please contact us at (800) 975-3435 to speak with one of our attorneys free of charge.



/nas/content/live/sweetjames/wp-content/uploads