Bicyclist Fatally Struck in Hit-and-Run Crash near Garden Highway [Sacramento, CA]
Bicyclist Fatally Struck in Hit-and-Run Crash near Garden Highway [Sacramento, CA]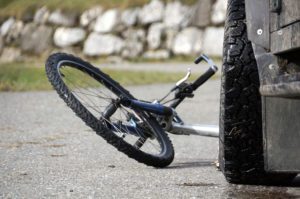 Bicyclist Killed after Sacramento Hit-and-Run Crash near Garden Highway

SACRAMENTO, CA (November 25, 2019) – A bicyclist died after a hit-and-run crash near Garden Highway in Sacramento on Thursday, November 21.

Just before 6 p.m., a witness reported a white sedan swerving across lanes on San Juan Road east of Garden Highway. It was then followed by reports of a bicycle and a bicyclist lying in the middle of the road, according to CHP North Sacramento spokesman Officer Mike Zerfas.

The bicyclist sustained fatal injuries and died at the scene. Zerfas described him as a transient man of unknown age.

Zerfas stated that the witness did not directly observe the white sedan struck the bicycle or cyclist. It was not clear whether that vehicle was directly involved in the hit-and-run or whether the bicyclist was already struck by another vehicle and the car swerved to avoid him.

The CHP is looking for the suspect vehicle as its main investigative lead. This will either confirm or rule out the involvement of the white sedan, Zerfas said.

The identity of the victim was not yet released by the coroner's office pending notification of family.
---
To those facing this heartbreaking news, we'd like to express our sympathies to you during this time.
---
If you are looking for reliable wrongful death attorneys, reach out to Sweet James. Our attorneys and professional legal team have dealt with cases including car accidents, wrongful death, and personal injury. We will fight to help you achieve the justice and compensation that your family deserves. Call now for a free consultation at (800) 975-3435 to speak to an experienced legal professional in your area. You can contact us 24 hours a day/ 7 days a week by email, online chat, and text message.



/nas/content/live/sweetjames/wp-content/uploads