5 Injured in Two-Vehicle Crash on Beverly Boulevard [Koreatown, CA]
5 Injured in Two-Vehicle Crash on Beverly Boulevard [Koreatown, CA]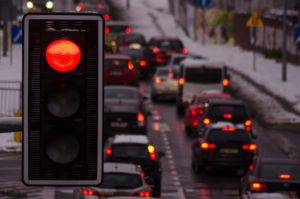 Five Hospitalized after Two-Vehicle Crash on Beverly Boulevard near Western Avenue

KOREATOWN, CA (November 22, 2019) – Five people suffered injuries in a two-vehicle crash on Beverly Boulevard, Friday morning.

According to the Los Angeles Fire Department, the incident happened at about 5:00 AM. A westbound BMW allegedly ran a red light and then struck a northbound Acura at Western Avenue.

Firefighters arrived and found two cars, one wrapped around a light pole, and several people trapped. Crews had to extricate the vehicles' occupants from the wreckage before they could be taken to the hospital. Two people were in critical condition, two in serious condition and one in fair condition.

Officials continue to investigate the cause of the crash. Authorities will release additional information once it becomes available.

It is important to always be alert when behind the wheel of a car, truck, or bus. Stay within the speed limit, and follow the rules of the road to prevent any dangerous accidents. Always keep an eye out for possible road hazards and stay on guard.
---
If you or a loved one has suffered injuries in a car crash, be sure to reach out to the car accident attorneys at Sweet James. With over 20 years in the field, we know what it takes to protect your legal rights. Our team is highly experienced in handling complex car accident claims, helping victims seek the compensation they deserve. Call our offices today at (800) 975-3435 for a free and confidential case evaluation. You can reach us 24 hours a day and 7 days a week through email, text, and online chat.



/nas/content/live/sweetjames/wp-content/uploads