2 Officers Injured in Collision near Pacific Avenue and McFadden Avenue [Santa Ana, CA]
2 Officers Injured in Collision near Pacific Avenue and McFadden Avenue [Santa Ana, CA]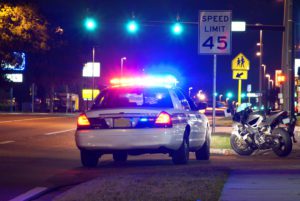 Officers Hurt in Santa Ana Collision near Pacific Avenue and McFadden Avenue

SANTA ANA, CA (November 20, 2019) — Two officers sustained injuries in a collision near Pacific Avenue and McFadden Avenue Sunday night.

The Santa Ana Police Department said the collision occurred past 8:00 p.m. Involved were a motorcycle officer and an officer in a cruiser. Both officers were in pursuit of a speeding vehicle before the incident.

Emergency crews took the motorcycle officer to a hospital with serious but non-life-threatening injuries. Meanwhile, the officer in the patrol car complained of pain and was taken to a hospital for evaluation.

The crash left the motorcycle upside down and heavily damaged. Debris from the crash was also scattered across the roadway.

The police were investigating what led to the crash.

An accident can happen anytime, anywhere, and to anyone. One small driving mistake can lead to disastrous results. That is why it is important to drive defensively and always abide by all driving laws. This way, you can ensure your safety and the safety of surrounding vehicles, motorists, and pedestrians.
---
When involved in a car accident, reach out to the experienced lawyers at Sweet James. With our extensive experience in the legal field, we know what it takes to win your case. Our attorneys and professional legal team have dealt with a variety of cases including personal injury and wrongful death. Call us at (800) 975-3435 to arrange your free consultation with an experienced legal professional in your area. For your convenience, we are also available through email, text message, and online chat 24 hours a day and 7 days a week.



/nas/content/live/sweetjames/wp-content/uploads